True confession time, Friends…I've struggled with negative body image issues most of my adult life. Throughout my weight loss journey, I've worked hard to set aside the damaging self-criticism. In all honesty, it's not easy releasing something that has been part of me for so long. Mindfulness has allowed me to listen to my thoughts, but not necessarily believe them.
Here's a great example, early on in my journey I struggled to find workout wear I felt comfortable donning in public. The playful, energetic prints that fascinated me on the hanger took on completely different characteristics stretched across my abundantly proportioned body. I often left stores with nothing but frustrated, negative feels. And although I've lost considerable weight, those thoughts still linger, their echo deafening if I'm off guard. Does this make sense to anyone else?
On my recent Vegas adventure to IDEA World Convention's Expo of all things fitness, I learned a very important lesson. Diana Aguirre, entrepreneurial creator of D'Moda Sportswear had generously agreed prior to the expo to provide me with a pair of her leggings. When I arrived at her booth to see nothing but wildly fun prints, the anxiety of the past began to bubble up. I think Diana's empathy was on full blast, as she seemed to sense what I was thinking. She didn't miss a beat in pulling multiple options from the rack for me to try on. I'd love to tell you they all looked as incredible on as they did on the hangers, but those darn thoughts were running their loop in my head again. I chose a pair that fit my spirit far better than my perspective at the time.
Here's where things get interesting.
I read D'Moda Sportswear's guiding philosophy…Diana's wish for women everywhere is to be able to love and accept themselves as they are. D'Moda Sportswear is designed and manufactured to give women the support and style they need to go out there and be active in life with confidence and express themselves freely and fiercely.
I've read these words over and over this month as I pulled on the leggings. I have no idea why I waited this long! Maybe it took me that long to begin to love and accept myself enough to do it? Regardless, I was instantly impressed with the weight and unique four-way stretchiness of the polyester/elastano fabric. I wore them around the house all day, enjoying the tucked-in feeling of compression they afforded my loose-skinned tummy, legs and behind. I should mention I'm not afforded that luxury in my ordinary leggings. I also must admit I paused often throughout the day to rub my hand down my leg, appreciating the sheer comfort and texture of these pants.
As D'Moda encourages, Express YOU Fiercely, I decided to do just that to demonstrate how well these new pants fit within my lifestyle. I hiked one of my favorite places to calm, clear and energize…
Unfortunately, I soon brushed up againsts several burr plants and spent a good portion of the trail removing the stubborn little pests from my pants. I was so afraid pulling them off would damage the fabric. But after plucking off nearly 60-75 of them, they left no trace of snags, runs or tears. I KNOW my other leggings would've succumbed.
I paused at my happy place to remind myself I am not my thoughts, merely the thinker of them.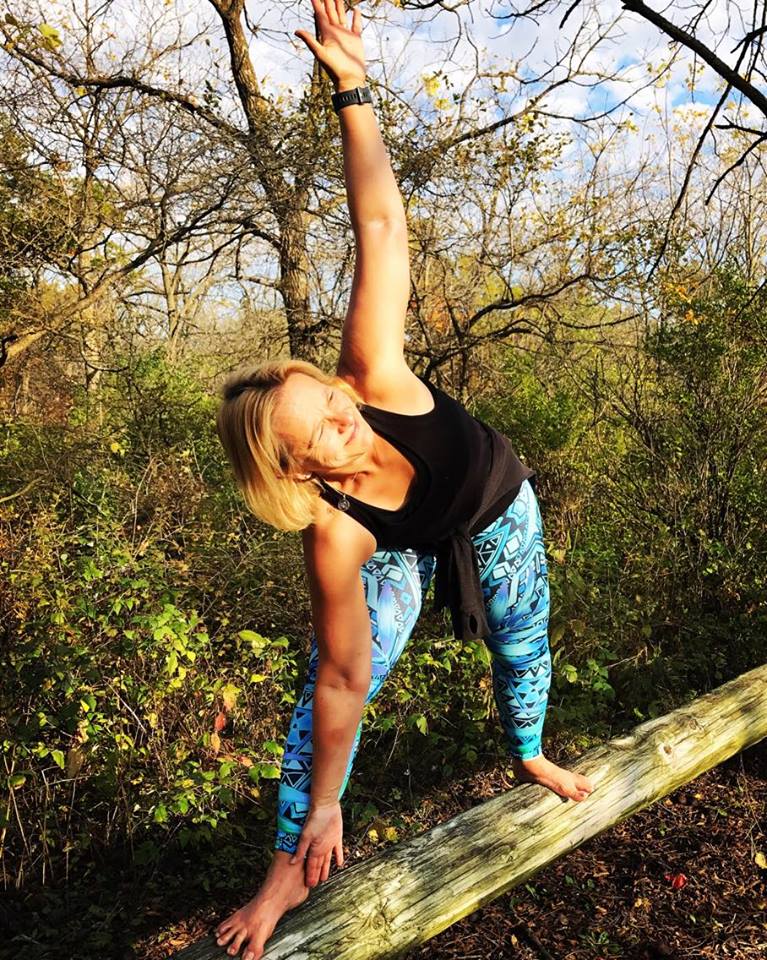 This body of mine has done remarkable things. It has brought forth new life twice, it has survived immense loss, extensive trauma, injuries, carried me across multiple start and finish lines and still shows up. Every. Single. Day. If those aren't reasons to love and accept myself, I don't know what else would be.
Okay, yeah, that got kind of deep. But I would like to give D'Moda Sportswear leggings two thumbs (or legs) up! I wholeheartedly recommend these pants and this company if you are looking for comfortable, dependable leggings that put that FIERCE within each step. You can check out their vast array here.
Thank you, Diana, for helping me get to this place with a fantastic pair of pants and very compassionate support!
Namaste